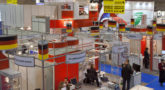 If you have a big event coming up in your near future, you may be looking for ways to personalize items or advertising materials so that everyone remembers the big day. Whether it's a trade show, conference, or wedding, custom made labels can help to pull your theme together and create memorable moments!
Win Your Wedding with Custom Made Labels
Your wedding is a day to celebrate with friends and family. And, one of the many ways to celebrate is to drink! If you're considering wine or beer at your wedding, add a personalized twist with custom made labels. This way, your friends, and family can take the bottles home as a memorable reminder of your big day! With our digital print press, we can help develop labels of any size, shape, color, and design. If wine or beer isn't your thing, you can personalize party gifts with customizable stickers! You can even wrap your Custom Face Boxer Shorts and put on your own customizable sticker to really make it special for your loved one!
Turn Up Your Trade Show with Custom Made Labels
Looking for something to turn heads at your next company trade show? Consider personalized sticker "hello my name is" name tags which incorporate your company logo. You can incorporate the design into your SNA Displays products at the show, with the LED screens flashing that design to bring it all together. Or, offer personalized gifts that implement your company branding with custom made labels! Kitting your booth staff out with branded clothing and custom labels can also get your company's name out there. Your new contacts are sure to remember your organization when you go above and beyond to identify with people through personalization!
Gear Up Your Graduation Party with Custom Made Labels
Celebrating years of hard work in school with a graduation party this year and want to make it the most memorable moment of the year? Consider labels for party gifts so that your friends and family can remember your momentous achievements once the party ends! Or, create custom stickers with your school mascot to give to your fellow graduates or party members to wear proudly.
Customize Your Convention or Fundraiser with Custom Made Labels
Have a big convention or fundraiser you need to start marketing? Customizable stickers, bumper stickers, car decals, and labels can all help spread the word! Or, consider one of these options for the big day itself to personalize momentos and free giveaways! Make your fundraiser or convention one for the books with innovative, creative, and unique event labels.
Labels for Any Event from Blue Ribbon Tag and Label
Whatever your event, custom labels can help you to create a personalized feel for your special day. If anything, they can be a great conversation starter! If you have an idea for a personalized event label, bring your idea to the design experts at Blue Ribbon Tag and Label. We'll then come up with your design and offer a sample before you make the financial commitment. Ready to see how we can make your big day extra special? Visit our website or call us today at (954) 922-9292 for a free estimate!