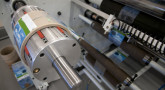 Blue Ribbon Tag and Label Corporation offers a number of different label printing services, including hot and cold foil label techniques. Determining the kind of material that you want to use for your product's label or tag is important to its overall appearance and feel. Choosing hot or cold foil label printing services for your label ensures a quality look, timely availability, and affordable pricing.
Hot Foil Printing
The process of hot foil printing differs from cold foil printing. With hot foil printing, pressure is the main component. A stamp of the design for the label is created and pressed onto the foil. This creates dimension and feeling to the label because of the indents created by pressure.
Cold Foil Printing
Cold foil printing differs from hot foil printing in its process. With cold foil printing, a glue is printed directly onto paper in the same design as desired for the label. The foil is placed on this glue paper and then heated until dry by an ultraviolet light. Once dry, the foil that was not attached to the glue is removed, leaving the finished product.
What to Consider When Deciding Which Foil Printing to Choose
Time Restrictions: If you are pressed for time, cold foil printing is your best option. No stamp has to be created with cold printing, and printing the glue takes within seconds. Drying is implemented within the printing machine, so it does not have to be transferred upon completion.
Money Restrictions: If you are looking for quality foil printing at half the cost, cold printing is your best option. Hot printing requires a specifically designed stamp for each design, which costs more money. Although, if you are planning on printing labels for a large job, the hot foil press technique may offset the costs.
Color Restrictions: Hot foil pressing produces high-quality color, yet is restricted by the quantity of shades it can provide. Cold foil printing allows for the adding of color after the foil has already been pressed, which gives more color options.
Overall Look: The hot foil pressing technique gives more dimension to the label, where a cold foil press gives more options for the finish to acquire the desired look since coating can be added once the product is finished.
Deciding on Hot or Cold Foil Label Printing Services
Either foil label printing techniques are good choices for any company looking to design a new label or tag for their product. Whether you choose hot or cold foil labels, Blue Ribbon Tag and Label Corporation can help you with the design, production, and shipment of the label of your choice. Our top of the line printing presses provide only the highest quality foil labels, using the newest technology available. If you would like to learn more about our printing services or wish to get started, visit our website<hyperlink> for more information.