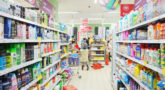 If you sell retail, you know that marketing is a major key to business success. And, your retail labels are a way to market your products. But, how do you know if it's time to revamp your retail labels? There are a few reasons why business owners choose to upgrade their packaging labels. Maybe it's time you should consider making a change to your product labels, too!
Keeping Up With Marketing Trends and Consumer Buying
What may once have attracted customers to your product may not be what attracts them today. Marketing trends differ because what a customer wants may differ from time to time. Changing up fonts, approach, style, and even size of your label may help to get your product back on track to enticing new customers. If your product isn't selling as much as it used to, it may time to get with the new marketing trends of current and update your retail labels.
Introducing a New Product
If you're ready to release a new product, you may wish to consider new retail labels. Sticking with the same old song and dance may not attract new customer bases to your novel products. So, this new product may be a cause for new label design. Adding more products expands your brand presence and gets more people aware of your products. Besides that, you may want to consider approaching a 3d scan store to create realistic 3D models of your products (with the labels, if you wish) and create a digital catalog so that customers get a better idea about the product they are going to buy. So, make your first impression on your new product one you can be proud of and which will bring you more new business!
Federal Approval with Regulation Changes
A major reason many choose to update retail labels is federal regulation changes. If your retail product is a food or a pharmaceutical, the label is regulated by the FDA. They require a list of information for each type of product they are responsible for regulating. If your product contains a label that doesn't include the necessary information, your product could be yanked off the shelf by the U.S. government. And, all your efforts will be halted until you get a label which meets the qualifications. So, it's important to stay up to date with label regulations. Check to see if your label is missing any required information by visiting the FDA's website.
Changing Your Company Message
Have you recently changed business locations? Did your business change ownership? Have you established a new motto or business slogan? Changing up a company message can help to spread important information about your company which may persuade new customers to buy your products. And, it keeps committed consumers updated on new company changes! Make sure your customers are up to speed on the policies and message your business wants to portray with a new retail label.
Think It's Time to Update Your Retail Labels?
Do you feel that it may be time to update your retail labels to offer a new product, give your product a new feel, change your company message, or any other reason? Consider Blue Ribbon Tag and Label for all of your custom retail label needs. We offer a number of different solutions which provides you with hundreds of different choices. Whatever you envision for your new retail labels, our design team can help bring it to life! With over 35 years of experience creating unique, one-of-a-kind label solutions for business owners just like you, we know what your product needs to attract new buyers and retain past consumer relationships. Get a feel for what we do on our website and give us a call for a free quote today at (954) 922-9292.