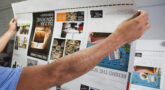 Sure, you could always order a low-grade printer and print your own product labels. Or, you can order a label based on a template that hundreds of other business owners have already chosen. But, if you really want your product label to stand out from the competition, you'll go with a label designer as Blue Ribbon Tag & Label. This allows you to obtain the product label you've imagined since the day you decided to develop your product. And, it ensures your label won't look like any of the labels your competition offer. But, what's the process of a label design company and what should you expect?
Step #1: Getting a Quote from a Label Design Company
The first step is contacting the label design company to talk about the project you have in mind so that you can establish a budget and receive a quote for services. During this step, you'll provide your vision for your label. And, you'll let us know about the materials and quantity of labels you need. This will help us to provide an estimated cost based on labor and material prices used in the creation of your labels.
Step #2: Establishing Design Concepts with the Label Design Company Team
During this step of the process, we will discuss graphics, fonts, varnishes, and all other design aspects of your label. This way, your label turns out exactly how you envision and expect. If you have an image you'd like to display on your label, this is when you'll provide digital documents so that we can determine if it can be utilized in your label design. Even if you don't have graphics and still want them designed for your label, we can help! Our team of graphic designers has been coming up with designs that match our client's wishes and needs for over 35 years. And, we take pride in our ability to match our client's current branding efforts and incorporate business ideas and mission statements into our label designs. We know that overall, your custom labels are a way to market to potential buyers. So, our label design team is focused on meeting and even overcoming your expectations for design.
Step #3: Examples of Your Custom Product Labels and Edits
If you want to see examples of materials or varnishes, this is the step in the process we send you examples of labels incorporating your design so that you can choose the best option. We can send examples of the label you and the design team have worked together to create. If there are any edits or upgrades you wish to make, this step in the process helps to catch changes you'd otherwise be unable to make further along. As soon as you're happy with the label design, your order goes into production!
Step #4: Get Your Custom Product Labels Shipped to Your Door
After your labels go to production, our shipping team gets to the task of packing and shipping your labels. We offer to ship anywhere in the world as we wish to offer custom label design services to clients all across the globe. All of our labels are shipped at a discounted price, so you don't have to worry about high shipping fees. Once you've applied your labels, your product will be ready for distribution and sale!
Ready to Get Your Own Product Custom Labels?
If you've made the choice to utilize the services of a label design company, consider Blue Ribbon Tag and Label's Art Department for all of your design needs. We provide custom label design for all types of orders, whether big or small. Get a quote for your labels today by calling one of our representatives at (954) 922-9292 today or contact us right on our website!