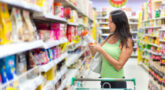 When it comes to labels, nothing is quite as important as a food label. If you are selling a product that is edible, you want to make sure you convey the experience of eating it on your label. If it is a rich, decadent product, you will want to create it on the label. If it is healthy and nutritious, another label might be more appropriate. Creating the right label is in the details, so we're going to go into a few of the ways you can convey the experience of your edible product accurately.
Creating the Best Food Label
There are a number of different things to take into account when you are creating your food label. Here are some of the top things to consider.
Is this your only product or is it part of a bigger brand? Branding is extremely important so that people recognize your company easily and can pick it out of a crowd when they are looking for it. Because of this, if your product is part of a bigger brand, you'll want to keep some kind of consistency so that people can recognize where the product is coming from. This can easily be done with a logo or tag line strategically placed where people can see it!
Colors are everything! Certain colors are scientifically documented to conjure up specific emotions in people. For example, did you know that the color red is associated with excitement and stimulation? It is a color that conveys a call-to-action, making people want to pick up a product from the shelf. This is why so many restaurants and fast food chains use red in their logos and tag lines. Green, on the other hand, is most closely associated with health, wellness, and the environment.
Use the right wording. Be concise in the message you are trying to get across and eliminate unnecessary fluff. People want to be able to scan through aisles of groceries without having to stop and read an entire paragraph about a product. Use to-the-point language that is eye-catching and relevant to the product you are trying to sell.
Highlight the best parts of the experience of eating this food. As mentioned above, think about the purpose your product serves. Is it something a person can eat on the go and needs little or minimal preparation? Is it a healthy alternative to something not as healthy? Or maybe it is a great snack for people who feel like indulging. No matter what, make sure your food label is quickly conveying exactly what the product delivers.
Images can convey a thousand words. Use images strategically in your food label. For example, a symbol of a cowboy or other kind of rough man is often used for snacks like beef jerky or easy-to-make foods like beans. On the other hand, an athletic woman is most likely to be used for products that are healthy and low in calories. You can also use images of food, animals, or landscapes as appropriate. Just make sure it is relevant to your product.
Use your packaging strategically. Food packages vary drastically, and it is up to you to use them to your full advantage. For example, if your food is visually appealing, you can choose clear packaging to showcase your food. If the opposite is true, you can choose a color to cover your food, and as a result, you will have plenty of surface space to work with for wording, logos, and pictures.
Get consumer insight. Finally, you have to know your customers to be able to deliver what they want. There is nothing wrong with test driving a few different options of food labels in order to see what works. This can be done with a poll, or a controlled test to see what works and what doesn't. This way, you'll be able to save yourself time instead of printing and wasting a bunch of labels that don't work.
Always take your time creating your label, and make sure to take all of these points into account. When you do it right, your food label will literally have your product flying off of the shelves!
Choosing to Create an Epic Label with Blue Ribbon Tag and Label
Now that you have an idea of what you want your label design to look like, you're ready for production! At Blue Ribbon Tag and Label, we have over 30 years of experience providing the design and production of beautiful, custom labels for business owners just like you! If you are ready to get started creating your very own epic label for your product, we can offer a free quote! Give us a call today at (954) 922-9292. Or, fill out the contact form on our website to have us contact you about your quote!