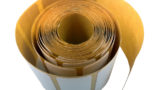 Sticker label printing is becoming widely known as pressure sensitive label printing services. Blue Ribbon Tag and Label Corporation has brought the latest in sticker label printing services to their customers. Pressure sensitive labels are shipped on rolls of paper and easily applied by hand or machine. The release liners that the stickers come on protect the adhesive from damage and assist with label release. Pressure sensitive labels are applied to a product with little pressure without the necessity for heat. There are many advantages to choosing sticker label printing for the label for your product.
Why you May Want to Choose Sticker Label Printing
Countless options for design, materials, and colors used in each sticker label.
Graphics on pressure sensitive labels are high quality because we offer only the newest technology in label printing services.
We offer sticker labels in any size and shape you can imagine because of our large press capabilities.
Sticker labels are a good fit for any product with a smooth surface for application.
The Benefits of Sticker Labels
Versatility- If your product has a smooth surface, sticker labels will work. They can be printed on a number of different materials to provide protection from the elements or countless finishes. Additionally, they can be chosen for both the front and back labels on a product if you don't like the idea of a label wrapping around your entire product.
Easy Application- Everyone knows how to use stickers. Pressure sensitive labels give the option for manual application by hand. They can also be applied by machine for precision placement.
Quality- All of Blue Ribbon Tag and Label Corporation's pressure sensitive designs are high-quality products. You can be sure that your sticker labels are flexible, durable, and beautiful.
Choosing Blue Ribbon Tag and Label Corporation for Sticker Label Printing Services
We pride ourselves in the quality of our products and our attention to customer satisfaction. If you have chosen to use sticker label printing services for your product look no further for the company that will make your ideas into a reality.
The options for pressure sensitive labels are endless with different techniques available like hot foil stamping and silk screen printing. If you want a specific finish we also offer embossing, multicolored premium UV color services, and much more.
If you need help with design we are here to help. Our highly talented creative art staff is known for their eye-popping custom label designs. We are experienced in working with our clients to create the exact design they have envisioned.
If you are ready to start the label printing process, please visit our website today for a free estimate on our services. If you have any further questions or concerns, do not hesitate to call our toll free number at 1-800-433-4974.